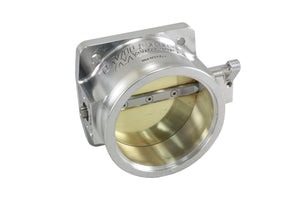 HI-BOOST 105MM COMPETITION THROTTLE BODY
New for 2019 is our HI-BOOST (HB series) of performance throttle bodies. Specifically developed for severe duty and high boost applications, the new design provides improved performance and durability. We start with a sealed shaft that is pressure tested to 100 psi and stable under the high engine temperatures seen in competition applications. Next, we've redesigned the mounting coupler for the TPS sensor to eliminate erratic signals sometimes seen under high boost. Then the blade is installed in a split-shaft for superior strength – counter sunk mounting screws hold the blade in a contoured design for improved airflow at full throttle. Initially offered in the popular 105mm opening, additional sizes will be coming soon.
Call today for special introductory price!
---